Jamaican Canadian Association Alberta business directory for local businesses and Calgarians to connect! Invest in your community by shopping locally and find the perfect Calgary company today.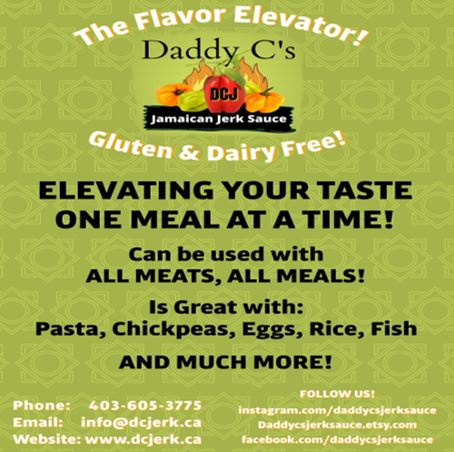 Business Address: 101 9 Ave SW, Calgary, AB T2P 1J9, Canada
Business Phone: +1(403) 630 40 46
Business Email: info@dcjerk.ca
Mr. Chang also known as Daddy C, is a chef from Jamaica, who has been working in the industry for more than 30 years. He has worked at various places including on cruise ships, that allowed him to visit 100+ different countries.
Daddy C's Jerk Sauce is very versatile and spicy. Daddy C's Jerk Sauce is Gluten and Dairy free and can be used on all meats, seafood, vegetables, beans and can be used as a dip.
Daddy C's Jerk Sauce comes in a Vegan version as well.
WE ARE OPEN 24 HOURS
Dispatch time is 3 business day
The ultimate versatile and spicy gift
Gift it forward